Prizes and Sponsors
Categories
SCUBAPRO
For close to 60 years SCUBAPRO has led the industry in dive equipment innovation, and in doing so has changed the face of diving. SCUBAPRO engineers are dedicated to groundbreaking research and development, always first to the market with the new and the exciting.
SCUBAPRO has been committed to the sport of diving and to the protection of the world's oceans that provide us all with so much enjoyment, exploration and adventure. From our environmentally responsible products, materials and manufacturing techniques to sponsoring the conservation efforts of numerous organizations, no dive company does more to protect the environments we all love to explore.
SCUBAPRO products help new and experienced divers to discover and experience the amazing undersea world, and we invite everyone to join us in working to preserve it for future generations.
SCUBAPRO - MK11 C370 Regulator
SMALL IN SIZE — BIG IN PERFORMANCE. Breathe smoothly and silently, at all depths, and all tank pressures, with the air-balanced C370. Its compact size and light weight make it the ideal choice.
SCUBAPRO - A1 DIVE COMPUTER
The A1 is a single-gas nitrox dive computer designed for recreational divers looking for a wrist-style computer that can be worn on the surface as well as under water. With 3 dive modes (Scuba, Gauge and Freediving) and a Sport mode for swim lap counting and stopwatch.
SCUBAPRO - DIVE BAG SET
o Dry bag 120 L: Built with a blend of 500D nylon (85%) and polyester (15%) backed by a TPU coating. Reinforced base and saltwater-resistant wheels. Dimensions: 85x40x35cm. Weight: 2.60kg. Volume: 119L.
o Reporter Bag: Compact & practical, with inside padding and three roomy compartments. Dimensions: 35x23x45cm. Weight: 0.90kg. Volume: 36L.
Paralenz - Vaquita Dive Camera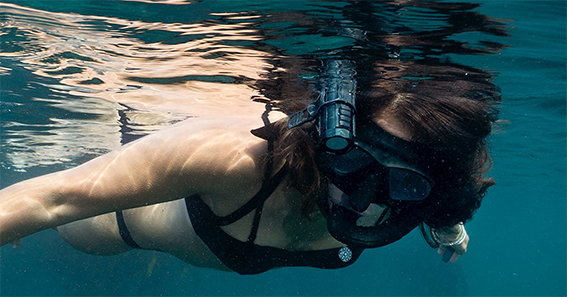 Paralenz Vaquita is a powerful, beautifully designed underwater camera with a simple mission: to enable you to seamlessly capture and share brilliant underwater videos while helping protect the Ocean. More details here.
Frame Your Adventure with the new OLED Display: Keep a real-time overview of what you're recording on the Paralenz Vaquita's new True Color OLED screen. It also displays your dive profile along with the current depth and temperature information.
With 4K, marine life stays breathtaking above the surface: Paralenz Vaquita's updated technology delivers the smoothest and most vivid underwater videos up to 4K 60fps. It applies the H.265 video codec which stores more image information while using less storage space.
Intelligent Color Correction, all the way down: Take back all those vivid colors you remember from your dive up to the surface. Paralenz Vaquita's patented depth-controlled color (DCC) automatically adjusts the white balance of your recording to the depth you're diving at.
Fully focus on your dive with auto-record: The auto-record automatically starts capturing video when you get to a set depth and stops when you resurface. This expands your Paralenz Vaquita's battery life, eliminates the need to edit out boring parts of video, and lets you completely focus on the dive.
All your dives in one place - Free Paralenz App: Easily transfer all your footage to the Paralenz App. The camera automatically logs the exact locations of your dives (GPS) so you can revisit your favourite ones easily. Organize and edit your dive videos, and share them with like-minded divers and marine researchers worldwide to help save the Ocean.Learn more.