Webinars 2022
Learn how to face climate change in your Marine Protected Area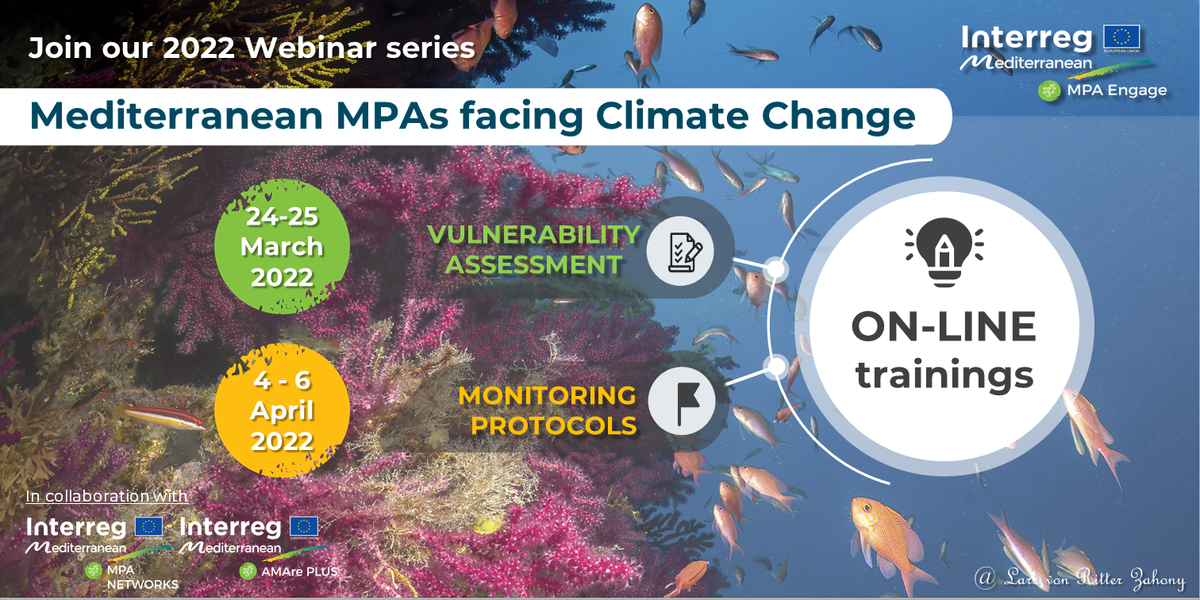 The Mediterranean Sea is one of the areas severely affected by climate change and Marine Protected Areas (MPAs) represent the pillars of the climate change adaptation strategy.

We announce a new series of webinars to help developing climate change adaptation and mitigation action plans in Marine Protected Areas. Participants will be trained on how assessing MPAs ecological and socio-economic vulnerability and how tracking climate change impacts.

Webinars are free and participants have open access to tools and materials.

WHO should attend the MPA Engage webinar series?
► Managers of Marine Protected Areas
► Marine conservation and environment administrations
► Scientists, experts and practitioners working in Marine Protected Areas

The webinars will be followed by field training sessions. Due logistics, the number of participants in the field training is limited. For the selection of participants, a set of criteria will be communicated but the main target of this training is MPA mangers from MPA among the partners and associated partners of MPA-Engage, MPA-Networks and Amare Plus Interreg MED projects. The attendance to the online training session will be
compulsory to be involved in the field training session.
These trainings are carried out within the framework of the MPA Engage project, with the collaboration of MPA Networks and MPA AMAre plus projects.


MODULE 1: VULNERABILITY ASSESSMENT TO CLIMATE CHANGE

The aim of the webinars is to support participants in understanding and developing a socio-ecological vulnerability assessment in their MPA to evaluate the weaknesses of the area to improve local management. The 2022 webinar will be a follow up of the first webinars series on Vulnerability Assessment held in May 2020. It will be structured in 2 days where we will retake the main key concepts delivered in the previous session and we will continue focusing on the development of the vulnerability assessment. The lectures will last about 1 hour and 30 min each.


WHEN? The webinar will be held on March 24th and 25th from 10:00 to 12:00 Central Europe Time

WHY attend the MPA Engage Vulnerability Assessment module?
During the webinar will develop your skills on how to:
Understanding the importance of a vulnerability assessment as a tool for MPAs management practice.
Assess the ecological and socio-economic vulnerability of an MPA.
Understand and analyse the information provided by the vulnerability assessment results.

REQUIREMENTS In order to have a broader understanding of the topic we highly suggest to the attendees to watch the 3 sessions of the 2020 webinar series available at this link
MORE INFO about the Vulnerability Assessment to Climate Change webinar at this link
MODULE 2: MONITORING PROTOCOLS TO TRACK CLIMATE CHANGE IMPACTS

The aim of the webinars is to provide to participants understanding and familiarity with nine monitoring protocols related to different climate change indicators such as: sea water temperature, mass-mortalities, changes in fish abundance, monitoring the health of Posidonia oceanica, Pinna nobilis and sea urchin population and using Local Ecological Knowledge to reconstruct time series of historical changes.
The webinars will illustrate the rationale, field operations, data treatment and information sharing approaches of these monitoring protocols. A ready-to-use monitoring toolkit will be shared, including video tutorials, PowerPoint presentations and files for data inputs.

WHEN? The webinar will be held from April 4th to 6th 2022 from 10:00 to 12:00 Central Europe Time

WHY attend the MPA Engage Monitoring Protocols module?
During the webinar will develop your skills on how to:
Monitor in a harmonized way the climate change impacts in MPAs
Access the knowledge of local experts, such as fishers and divers, to gather key information regarding climate related changes in the marine biota.
Upload data and share information


REQUIREMENTS none
MORE INFO about the Monitoring Protocols to track Climate Change webinar at this link